Business All Star Award
Ryan Steel are delighted to have won the Best in Class Structural Steel Company Business All Star Award. Please make sure to take a look here at the Business All-Stars Accreditation Ceremony.

New Leaflets Available
Ryan Steel Workshop now provides leaflets on all of the work and services they provide.


Baxter in Castlebar
Ryan Steel is doing a job for Baxter in Castlebar for MVS.


New Entrance and Car Park
Ryan Steel's Workshop has opened a new public entrance with a customer car park.


Four New Vans with JJ Burkes Car Sale
We would like to say a Big Thanks to Joe Burke at JJ Burke Car Sales, Ballinrobe. Great to keep business local.


County Kildare Project
Ryan Steel is continuing work on a big project in Co. Kildare.


Working From Home
Ryan Steel are working in Westport. We are supplying the steel frame to the new extension at the Portwest premises. Great to see local businesses expanding in our area.


Dandara Farm
Ryan structural steel have been awarded the contract in the Isle of Man to build the Dandara Farm Units.

Mayo General Hospital
2 Canopies finished at Mayo General Hospital. Ryan Steel drew, fabricated, painted, erected and sheeted this in one week.
We are delighted to help the efforts of our great health care staff in our own little way.
Thanks crew for all your help. Thanks Colin @ Vertex for the flashings so quick.

Ashford Lodge
Ryan Steel are back in Ashford Castle , We will be supplying and fitting the structural steel to Ashford Lodge Hotel Spa.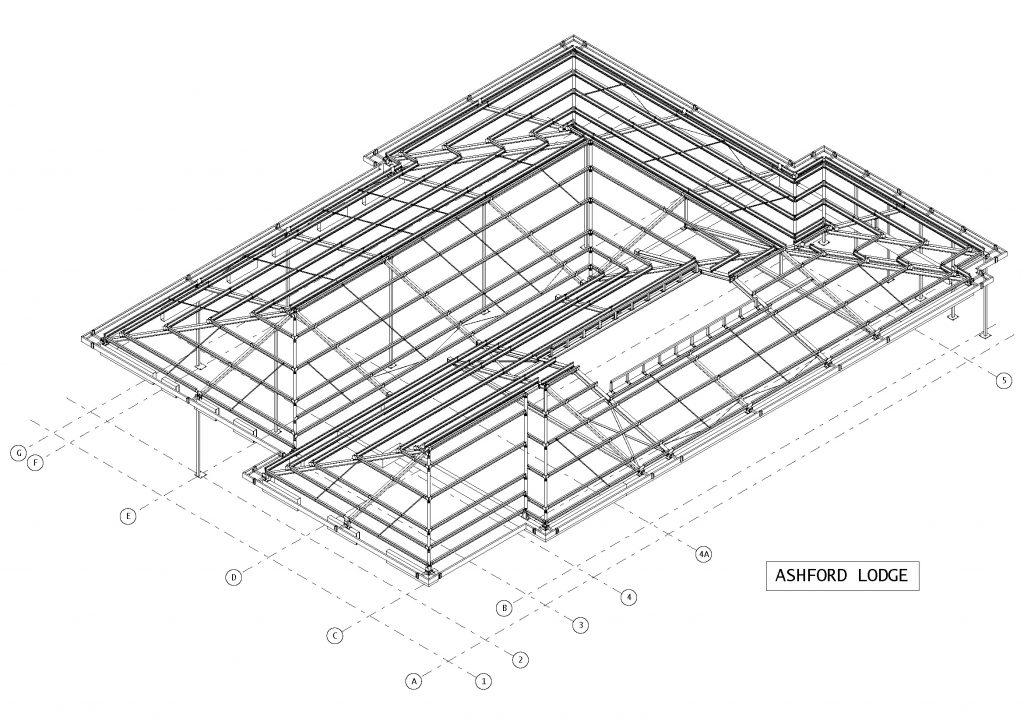 OMNI Certified
Ryan Structural Steel has completed its renewal of EN1090-ex2 certification. Thank to the irish owned OMNI of Tralee for their guidance and instruction. We will continue to provide CE Marked structural steel to the Irish market place . If you have any projects for pricing big or small please email them to our new address for pricing tenders@ryansteel.ie

Business All-Star Accreditation
Ryan Structural Steel are delighted to receive Business All-Star Accreditation. Our team has been very busy over the last 8 weeks working with the All-Ireland Business Foundation to achieve our Business All-Star Accreditation Certificate. This accreditation is an outstanding achievement and recognises the hard work and dedication of our team in providing a best in class service to all our customers. We look forward to attending the Gold Medal Ceremony on October 25that Croke Park.
Business All-Star accredited companies are defined as; progressive, indigenous Irish businesses which meet the highest standards of verified performance, trust and customer centricity. In achieving this accreditation we join a unique group of businesses and we believe this continues to demonstrate our commitment to improving our service to our customers and suppliers. The three pillars of All-Ireland Business All-Star accreditation are Performance, Trust and Customer Centricity.


New Work in Galway
RSSS are happy to be back working in Co Galway again. We are currently working on the Dean Hotel with JJ Rhatigan we are supplying the penthouse steel, the balconies and gates.

Michael Shirra
Everyone at Ryan Structural Steel is delighted to welcome Michael Shirra to our Team.
Michael is a highly experienced detailer with 30 years in the industry. We are delighted he is bringing his vast knowledge to enhance our detailing capacity.
We're very happy to have him on board and wish him all the best.

Source and Supply Logistics
We are finished Phase 2 of SSL and now moving on to SSL Phase 3. We will be supplying the structural steel frame and cladding to their newest extension.


Shoe Zone Westport
Ryan Steel is working with Walsh Builders to build the new development in Westport Co Mayo. We are supplying the steel frame.

Carnmore
Ryan Steel is happy to be working with Whitecroft Developments again to build the new DOE Centre in Carnmore Co Galway.


JJ Rhatingan and Co.
We are supplying the stone facade support steel to the Maldron Hotel, Kevin st Upper Dublin.




Edward Building Developments in Scotch Hall, Drogheda
Ryan Structural Steel will be fabricating and fitting the new messanine area at the food hall, also be removing the feature stairs and refurbishing the car park railings.


Penney's Store, Galway
Ryan Structural Steel are now working with Sigma Group. We are installing new shop glass, key clamp guard railings, roof steel beams and a hinged singular ship ladder in Penney's Store, Galway Shopping Centre.


O'Malley Construction
O'Malley's Construction has just awarded Ryan Structural Steel with the contract for the next Apartment Block development in Ardilea Cresent.

Automated Gates
Ryan Structural Steel are now offering the supply and fitting of private and commercial Automated Gates.

Islandeady GAA
Ryan Steel are so proud to have sponsored the Islandeady GAA U-12s Girls Team Jerseys. We wish them the best of luck in their games.

The Sportsground, Galway
Ryan Steel are joining up with Fowley Construction & Civil Engineers to design and supply the TV Recording and Commentary Area at the Connacht Rugby's Sportground in Galway City.

 Galway Coach Station
Commenced work on the new mezzanine floor in the Galway Coach Station extension. New tubular bracing to restrain the main glazing. Phase 2 pending.

Ardilea Crescent, Dublin 14
Ryan Steel will be supplying the main steel floorbeams, balcony columns, beams & railings including all glazing.

Building Ireland Magazine
Ryan Structural Steel Services Ltd. specialises in commercial structural steel detailing, fabricating and erecting, combining cutting-edge expertise, vast experience and high quality workmanship to deliver exceptional solutions to major projects nationwide. We travelled to the company's state-of-the-art detailing facility in Westport, County Mayo and caught up with founder / MD Des Ryan to find out more about this outstanding operation.
Since its inception in 2004, Ryan Structural Steel Services Ltd. has developed into one of Ireland's premier commercial structural steel specialists, providing unrivalled detailing, fabrication and erecting solutions to a vast range of commercial and industrial projects for a Who's Who of clients throughout Ireland and the UK. Based in County Mayo, the company runs its own sophisticated detailing department, working on STRUCAD machines and drawing out the individual elements that go into fabricating raw steel, as well as supplying their own steel erecting crew to work on site. CE-certified structural steel (BS EN 1090-2 and Execution class 2) is used on all projects and Ryan Structural Steel Services Ltd. has an unblemished track record in delivering projects on time, within budget and to exact specification. This is why demand for their services continues to soar and the future is looking extremely bright for the company.
"Our business model seems to work and we are happy to continue with it," notes founder Des Ryan. "We have enjoyed growth and weathered the downturn because of the way we have structured our business. We don't have huge overheads or machinery sitting idle, so when the downturn came we were able to just turn off the computers and wait it out. When things started to pick up again, ourselves and Regans Structural Steel were on it first, having secured the CE-mark, and we have been extremely busy ever since." All fabricating is carried out in partnership with the aforementioned Michael Regan of Regans Structural Steel in Strokestown, County Roscommon, while Ryan Structural Steel Services Ltd. focus on detailing and erecting, each of which can also be offered as standalone services. Over the past twelve years, Ryan Structural Steel Services Ltd. has offered it expertise in steel detailing and erection to the full spectrum of developments including schools, hospitals, hotels, community centres, shopping centres etc.
Completed projects include Silverbridge Shopping Centre in Claremorris, and the Connacht Gold Superstores in Westport and Sligo as well as OPW work at Scoil Naisiunta Uachtar Ard, Scoil Phádraig Westport, Scoil Bhríde Primary School in Edenderry, St Brendan's in Belmullet and Athlone Community College. They are also experts in floor /roof decking, delivering many major projects including 1,600 square metres of flooring at Roscommon County Hospital, where they also did all the steelwork and steel detailing when the building was given a new extension in 2014.
Ryan Structural Steel Services Ltd. worked on the engineering block at NUIG, where they also did all the steelwork on the new Life Course Studies Building and the detailing and erecting on the Human Biology Building. Other healthcare projects completed to the highest standards include Mayo Medical Academy, St Anne's Special School in Merlin Park, Galway, a 75-bed extension to the maternity wing at University Hospital Galway (including 4,500 metres squared of deep decking flooring) and Primary Care Centres in Castlebar and Blanchardstown, while commercial structural steel solutions were also provided recently for the OPW on projects such as Pearse's Cottage Interpretive Centre in Ros Muc, Galway, Roscommon County Council offices, Solas Galway Picture Palace and community centres across Mayo and Galway.
Over the years, Ryan Structural Steel Services Ltd. have worked alongside all the leading main contractors in Ireland including Purcell Construction, BAM Ireland, Careys, JJ Rhatigan, etc. and newer firms like Kesel Construction and Monami Construction in Galway. Some of the most high-profile non-OPW projects that Ryan Structural Steel was engaged on of late include all steel and decking on a seven-storey extension to the North Star Hotel on Amiens Street, a bridge at Turnberry Golf Course in Scotland and the supply of 21 crane ties for HTC WOLFFKRAN in London. They are also about to do some steelwork for Douglas & Stewart Builders at the world-famous Ardfin House on the Isle of Jura, Scotland.
"All the detailing is done here in our state-of-the-art new office, which was built at the start of the year. Regans then fabricate the steel and our lads bring it to the site and erect it," Des notes. "We try not to overstretch ourselves and we tend to pick and choose the projects we get involved in. At the moment, we're also doing Bloomfield Avenue apartments in Dublin for Edward Holdings as well as luxury houses in Clifden and Achill.
"We'll keep going as we are and hopefully get bigger," the Mayo man concludes. "The new offices have allowed us to take on extra staff, including a new detailer and a couple of steel erectors, and we also intend to increase our management capabilities to facilitate the continued growth of the business.
"We have a good team of very experienced people here and we prioritise quality over quantity. As such, we tend to get a lot of repeat customers and our aim is to keep them."